The Glums – Take It From Here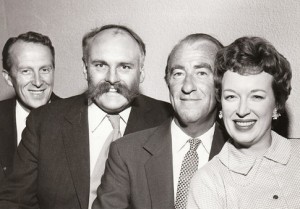 The Glums was spawned at the start of the third series of Take It From Here, a British radio comedy programme broadcast by the BBC between 1948 and 1960. Written by Frank Muir and Denis Norden, it starred Jimmy Edwards, Dick Bentley, and Joy Nichols. When Nichols moved to New York City in 1953 she was replaced by June Whitfield and Alma Cogan.
For the first episode of series three, the 'TIFH Talking Point' segment featured a take-off of the sagas of 'nice' families such as the Archers or the Lyons that abounded on the BBC at the time. This introduced an uncouth dysfunctional family called the Glums, with Mr. Glum the archetypal chauvinist pig.
The popularity of this sketch made Muir and Norden realise that they were on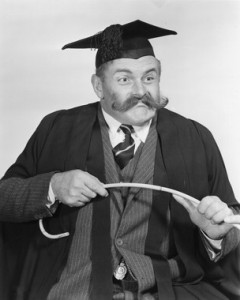 to something. They made one or two modifications to the characters, and The Glums became a regular part of Take It From Here.
The premise of The Glums was the long engagement between Ron Glum and his long-term fiancée Eth. As a result of post-war austerity, long engagements were common in 1950s Britain. A typical episode would start in the pub, with Mr. Glum (played by Jimmy Edwards) talking to the barman (played by Wallas Eaton). It would be closing time, and Mr. Glum would start telling the week's story to the barman as a ruse for obtaining another pint of beer (or two). The story would be about some recent episode in the lives of Ron, Mr. Glum's dim son (played by Dick Bentley), and Eth, a plain girl for whom Ron represented her only chance of marriage (played by June Whitfield). Paradoxically, Edwards, who played the father figure, was almost thirteen years younger than Bentley, who played the son.
A short signature tune would herald a change of scene to the Glum's front room, where Ron and Eth would be sitting on the sofa. Eth would say, "Oh, Ron…!" — her catchphrase — and Ron would vacantly reply something like, "Yes, Eth?" and the week's story would begin in earnest. This opening formula was constantly varied slightly. For instance, in one episode, Eth says, "Oh, Ron, is there anything on your mind, beloved?", to which Ron, after a pause, replies, "No, Eth." Another example has Eth saying "Oh really, Ron, do you expect me to just sit here, like a lemon?", to which Ron responds "No thanks Eth, I've just had a banana."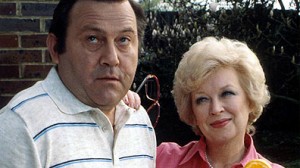 Most weeks, after scene-setting comedy business between Ron and Eth, Eth would say something like, "Sometimes, Ron, you're so placid – I just wish you would have a little go!" which Ron would stupidly misinterpret as an invitation to a kiss and cuddle. Eth would resist, and Ron and Eth's grappling would be speedily interrupted by the entrance of Mr. Glum with an "'Ullo, 'ullo!" and something like "All in wrestling – break clean!" or "Sorry to interrupt, but have you seen the garden shears? Mrs. Glum wants to do her eyebrows."
The story usually involved some crisis in the relationship between the three protagonists. In several episodes, this crisis followed from Ron's laziness, and his resultant inability to find employment. Some weeks it would be due to Mr. Glum's refusal to let Ron and Eth marry (in one episode this is because he is not sure that Ron really loves Eth, in another Eth takes Mr. Glum to court because he will not give his consent to the marriage). One story was about Eth getting into difficulties because she was accused of pilfering at the office where she was a secretary. Very often, the story arose from the consequences of some idiotic behaviour of Ron's, who was incapable of competently carrying out any simple task, even going to the fish-and-chip shop (when he puts his change up his nose).
One of the constant sources of delight in The Glums, quite apart from the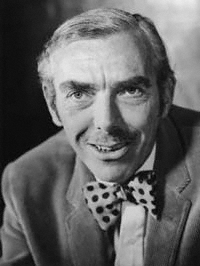 brilliant dialogue and beautifully conceived comic situations was the voice which June Whitfield found for Eth. At once sincere and affectionate, yet full of the affectations of a girl of the 1950s lower-middle classes keen to keep up her standards in the face of considerable dissolution in her close acquaintances, she rendered Eth funny, and yet vulnerable and capable of great expression.
Another character, who never appears but who is sometimes to be heard incoherently behind the scenes, was Mrs. Glum, the family matriarch. Alma Cogan, the singer, usually provided Ma Glum's off-stage noises. Although she never had a speaking part, Ma Glum provided comedy value by always being put upon by Mr Glum, and yet always getting her way (such as the episode where Mr. Glum pawned her false teeth). Alma Cogan also played other sultry feminine parts, such as occasional extramarital romantic interest for Mr. Glum.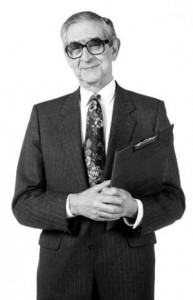 In 1959, Muir and Norden decided to move into writing for television, and so stopped writing TIFH. The BBC brought in writers Barry Took and Eric Merriman for the 1959/60 season, but this was to be Take It From Here and the Glum's last.
The Glums were remembered sufficiently for the format to be revived in 1978 as part of the unsuccessful Bruce Forsyth's Big Night programme. Two series of The Glums were later made by London Weekend Television, usually drawing on two original radio scripts each week. Ron Glum was played by Ian Lavender and Eth by Patricia Brake, while Edwards reprised the role of Pa Glum.