"Dad's Army" was a long running British comedy series created and written by Jimmy Perry and David Croft. The idea of a series came to Jimmy Perry when he realised that many people had forgotten about the contribution the Home Guard had made to the British Home Front during the years of the Second World War.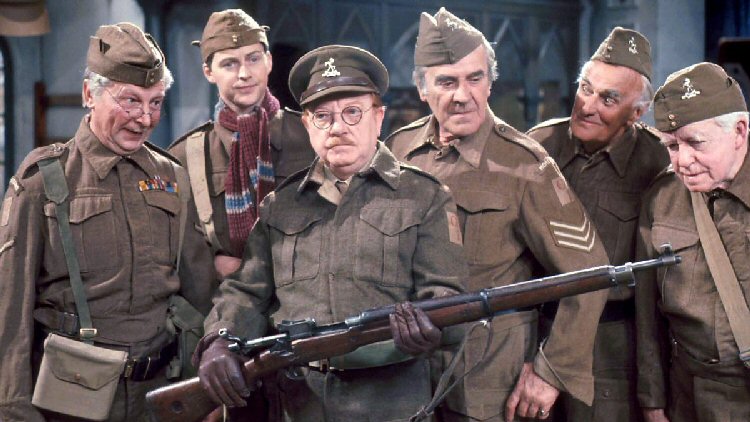 Commencing in 1968, "Dad's Army" ran on BBC Television for 9 years with over eighty episodes spread within 10 series. The series is set in a small fictional seaside town called Walmington-on-Sea somewhere on the South Coast of England.
"Dad's Army" is also remembered for its first class actors which starred amongst its credits, Arthur Lowe as Captain Mainwaring, John Le Mesurier as Sergeant Arthur Wilson and Clive Dunn as Lance Corporal Jack Jones.
67 of Jimmy Perry and David Croft's Television Scripts for "Dad's Army" were adapted for BBC Radio by Harold Snoad and Michael Knowles between 1973 and 1975. They were recorded at The Playhouse Theatre, Northumberland Avenue, London and at The Paris Studios, Lower Regent Street, London.
All episodes were recorded in Mono and exist on Magnetic Tape in the BBC Sound Archive.
The Radio Series began on Monday 24th January 1974 and ran for three series with its final episode been broadcast on 7th September 1976. The Series was generally given two air periods a week on BBC Radio 4, the second of which would be a repeat.
The show's main characters were: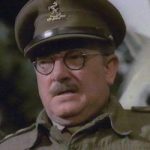 Captain George Mainwaring (pronounced /ˈmænərɪŋ/ (MAN-ər-ing)) (Arthur Lowe)—the pompous—if essentially brave and unerringly patriotic—local bank manager, Mainwaring appointed himself leader of his town's contingent of Local Defence Volunteers.
"You stupid boy", "Ah, just waiting to see who'd be the first one to spot that", "That's a typical shabby Nazi trick!", "This is war, you know!"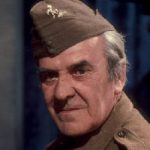 Sergeant Arthur Wilson (John Le Mesurier)—a diffident, upper-class bank clerk who would quietly question Mainwaring's judgement ("Do you think that's wise?"). Wilson served as a Captain in the First World War.
"Do you really think that's wise, sir?"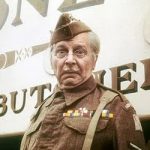 Lance-Corporal Jack Jones (Clive Dunn)—born in 1870, Jones was an old campaigner who had joined up as a drummer boy aged 14 and participated, as a boy soldier, in the campaign of Kitchener in the Sudan between 1896 and 1898.
"Don't panic!", "Permission to speak, sir?" and "They don't like it up 'em!".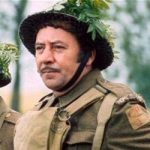 Private Joe Walker (James Beck)—a black market "spiv," Walker was the only fit, able-bodied man of military age in Walmington-on-Sea's Home Guard. His absence from the regular armed forces was due to a corned beef allergy.
'Ere, Come and have a look at this…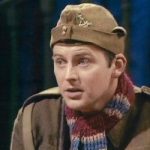 Private Frank Pike (Ian Lavender)—a cosseted mother's boy, constantly wearing a thick scarf with his uniform to prevent illness, and often the target of Mainwaring's derision ("Stupid boy!"). He also works under Mainwaring in his day-job as assistant bank clerk.
"Uncle Arthur"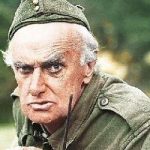 Private James Frazer (John Laurie)—a dour Scottish coffin maker and a Chief Petty Officer on HMS Defiant in the Royal Navy who served at the Battle of Jutland as a ship's cook.
"We're doomed. Doomed!"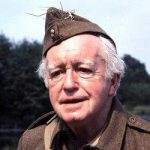 Private Charles Godfrey MM (Arnold Ridley)—he is the platoon's medical orderly. He was always getting caught short and needed to ("be excused"). A conscientious objector during WWI, he nevertheless was awarded a Military Medal for heroic actions during the war, and demonstrated bravery in the home guard as well.
"May I be excused, sir?", "I must have dropped off!",
Mainwaring: "Any previous military experience?"Godfrey: "Well, as a matter of fact, I was thirty-five years in the Army & Navy"Mainwaring: "Army AND Navy?! How did you come to be serving in both branches?"Godfrey: "Army & Navy stores. I served in the Gents Outfitting department."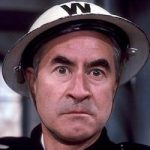 ARP Warden William Hodges (Bill Pertwee)—the platoon's major rival and nemesis. He was looked down on by Mainwaring for being a common greengrocer. As an ARP Warden he was always demanding people to ("Put that light out!").
"You hooligans!!"
Supporting characters included:
Mrs. Mavis Pike (Janet Davies)—Pike's mother and Sergeant Wilson's lover.
Reverend Timothy Farthing (Frank Williams)—The effete vicar of St. Aldhelm's Church, he shares his church hall and office with Mainwaring's platoon.
Maurice Yeatman (Edward Sinclair)—Mr. Yeatman was the verger at St. Aldhelm's Church and head of the Sea Scouts group, and was often hostile to the platoon.
Private Sponge (Colin Bean)—Private Sponge had the job of representing those members of the platoon not in Corporal Jones' first section.
Private Cheeseman (Talfryn Thomas)—a Welshman who joined the Walmington-on-Sea platoon during the seventh series to compensate for the death of James Beck who played Private Walker.
List of Dad's Army radio episodes
| No | Title | Recorded | First broadcast | Overview |
| --- | --- | --- | --- | --- |
| | | | | |
| --- | --- | --- | --- | --- |
| 001 | The Man and the Hour | 1973-06-03 | 1974-01-28 | |
| 002 | Museum Piece | 1973-06-07 | 1974-02-04 | |
| 003 | Command Decision | 1973-06-21 | 1974-02-11 | |
| 004 | The Enemy Within the Gates | 1973-06-21 | 1974-02-18 | |
| 005 | The Battle of Godfrey's Cottage | 1973-07-06 | 1974-02-25 | |
| 006 | The Armoured Might of Lance Corporal Jones | 1973-07-06 | 1974-03-04 | |
| 007 | Sgt. Wilson's Little Secret | 1973-07-13 | 1974-03-11 | |
| 008 | A Stripe for Frazer | 1973-07-13 | 1974-03-18 | |
| 009 | Operation Kilt | 1973-07-23 | 1974-03-25 | |
| 010 | Battle School | 1973-06-28 | 1974-04-01 | |
| 011 | Under Fire | 1973-07-27 | 1974-04-08 | The only existing version of this episode |
| 012 | Something Nasty in the Vault | 1973-07-23 | 1974-04-15 | |
| 013 | The Showing Up of Corporal Jones | 1973-07-20 | 1974-04-22 | |
| 014 | The Loneliness of the Long-Distance Walker | 1973-07-20 | 1974-04-29 | The only existing version of this episode |
| 015 | Sorry, Wrong Number | 1973-07-27 | 1974-05-06 | The TV equivalent is The Lion Has Phones |
| 016 | The Bullet is Not for Firing | 1973-07-26 | 1974-05-13 | |
| 017 | Room at the Bottom | 1973-07-23 | 1974-05-20 | |
| 018 | Menace from the Deep | 1973-07-24 | 1974-05-27 | |
| 019 | No Spring for Frazer | 1973-07-26 | 1974-06-03 | |
| 020 | Sons of the Sea | 1973-07-25 | 1974-06-10 | |
Christmas Special
| No | Title | Recorded | First broadcast | Overview |
| --- | --- | --- | --- | --- |
| 021 | Present Arms | 1974-07-18 | 1974-12-24 | The TV equivalent is combined episodes, Battle of Giants and Shooting Pains. |
Series 2
| No | Title | Recorded | First broadcast | Overview |
| --- | --- | --- | --- | --- |
| 022 | Don't Forget the Diver | 1974-07-16 | 1975-02-11 | |
| 023 | If the Cap Fits… | 1974-04-17 | 1975-02-18 | |
| 024 | Put That Light Out! | 1974-04-30 | 1975-02-25 | |
| 025 | Boots Boots Boots | 1974-04-16 | 1975-03-04 | |
| 026 | Sergeant – Save My Boy! | 1974-04-16 | 1975-03-11 | |
| 027 | Branded | 1974-07-17 | 1975-03-18 | |
| 028 | Uninvited Guests | 1974-04-18 | 1975-03-25 | |
| 029 | A Brush with the Law | 1974-07-17 | 1975-04-01 | |
| 030 | A Soldier's Farewell | 1974-05-15 | 1975-04-08 | |
| 031 | Brain Versus Brawn | 1974-04-30 | 1975-04-15 | |
| 032 | War Dance | 1974-05-12 | 1975-04-22 | |
| 033 | Mum's Army | 1974-05-12 | 1975-04-29 | |
| 034 | Getting the Bird | 1974-07-15 | 1975-05-06 | |
| 035 | Don't Fence Me In | 1974-05-16 | 1975-05-13 | |
| 036 | The King Was in His Counting House | 1974-05-15 | 1975-05-20 | |
| 037 | When Did You Last See Your Money? | 1974-05-15 | 1975-05-27 | |
| 038 | Fallen Idol | 1974-07-16 | 1975-06-03 | |
| 039 | A. Wilson (Manager)? | 1974-04-17 | 1975-06-10 | |
| 040 | All is Safely Gathered In | 1974-07-15 | 1975-06-17 | |
| 041 | The Day the Balloon Went Up | 1974-04-18 | 1975-06-24 | |
Series 3
No
Title
Recorded
First broadcast
Overview
042
A Man of Action
1975-04-28
1976-03-16
043
The Honourable Man
1975-04-28
1976-03-23
044
The Godiva Affair
1975-05-05
1976-03-30
045
Keep Young and Beautiful
1975-05-12
1976-04-06
Repeats on BBC radio now edit Pike's use of the N' Word
046
Absent Friends
1975-05-06
1976-04-13
047
Round and Round Went the Great Big Wheel
1975-05-07
1976-04-20
048
The Great White Hunter
1975-05-30
1976-04-27
The TV equivalent is Man Hunt
049
The Deadly Attachment
1975-04-30
1976-05-04
050
Things That Go Bump in the Night
1975-05-07
1976-05-11
051
My British Buddy
1975-05-06
1976-05-18
052
Big Guns
1975-05-05
1976-05-25
053
The Big Parade
1975-05-02
1976-06-01
054
Asleep in the Deep
1975-05-09
1976-06-08
055
We Know Our Onions
1975-05-08
1976-06-15
056
The Royal Train
1975-04-29
1976-06-22
057
A Question of Reference
1975-05-12
1976-06-29
The TV equivalent is The Desperate Drive of Corporal Jones
058
High Finance
1975-06-27
1976-07-06
059
The Recruit
1975-05-01
1976-07-13
060
A Jumbo-Sized Problem
1975-06-18
1976-07-20
The TV equivalent is Everybody's Trucking
061
The Cricket Match
1975-05-01
1976-07-27
The TV equivalent is The Test
062
Time on My Hands
1975-04-29
1976-08-03
063
Turkey Dinner
1975-05-02
1976-08-10
064
The Captain's Car
1975-05-09
1976-08-17
065
The Two and a Half Feathers
1975-05-08
1976-08-24
066
Is There Honey Still for Tea?
1975-07-11
1976-08-31
067
Ten Seconds From Now
1975-06-18
1976-09-07