Steptoe and Son is a British sitcom written by Ray Galton and Alan Simpson about two rag and bone men living in Oil Drum Lane, a fictional street in Shepherd's Bush, London. Four series were broadcast by the BBC from 1962 to 1965, followed by a second run from 1970 to 1974. Its theme tune, "Old Ned", was composed by Ron Grainer. The series was voted 15th in a 2004 BBC poll to find Britain's Best Sitcom of all time. It was remade in the US as Sanford and Son.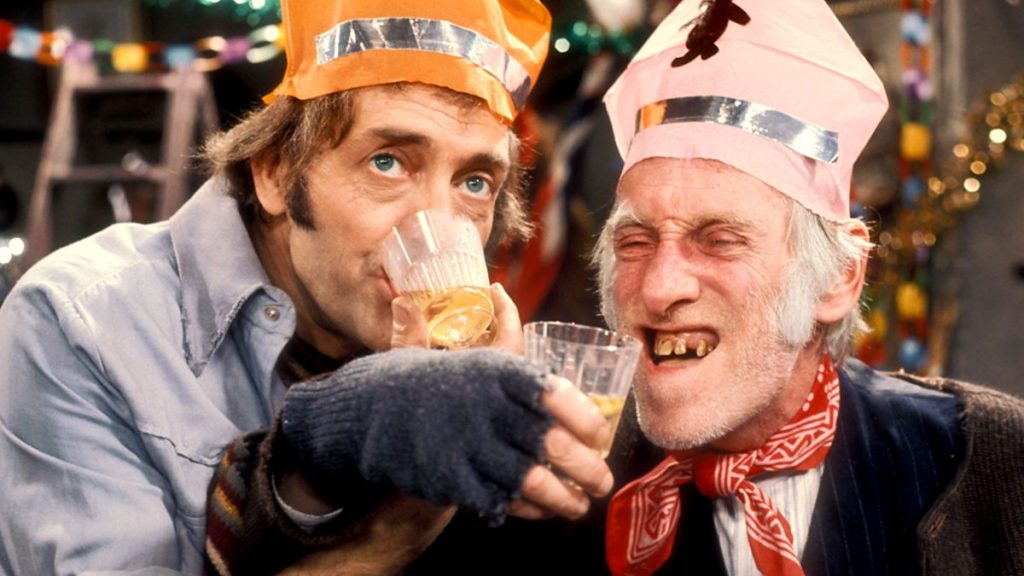 Characters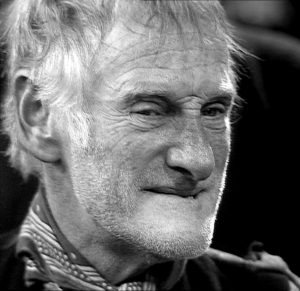 The father, Albert Edward Ladysmith Steptoe (portrayed by Wilfrid Brambell), was born on 26 September 1899 (father not known but believed to be a local muffin man, now dead; the portrait he keeps of his father is in fact William Gladstone), though he always let on that he had been born in 1901.
He appears to have joined the army underage at the start of the First World War, and is seen wearing the Mons Star medals to prove it. He served with the British Expeditionary Force to Archangel, White Russia, in 1919. Steptoe Senior is lazy, stubborn, narrow-minded, foul-mouthed, and has revolting personal habits. Albert is content with his place in the world, utterly unpretentious and downright cynical. He can be extremely vindictive and does everything he can to prevent Harold, his son, improving himself—especially if it means him leaving home. He is normally unshaven and wears a very old pair of false teeth, discoloured and with teeth missing. His wife died in 1936. He mentioned in one episode that he was one of fourteen children.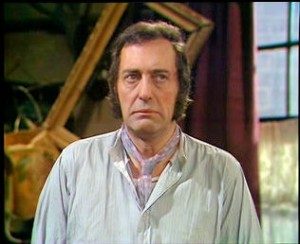 Harold Albert Kitchener Steptoe (played by Harry H. Corbett), born 1925 (Corbett's birth date) for the 1960s series (or born 1932 for the 1970s series) and educated at Scrubb's Lane Elementary School is also obstinate, though prone to moments of enthusiasm about an idea.
He wants to move up in the world—most of all to escape from the family home and his stifling relationship with his father which was the subject of the first episode, "The Offer". Harold has aspirations. He likes to see his business as being in antiques rather than junk. He bitterly regrets leaving the army, in which his service took him to Malaya and he achieved the rank of Corporal, and he nearly always wears a workman's belt adorned with army cap badges. During the 1960s series he had been a veteran of the second World War but as he was 'de-aged' during the 1970s series this was never mentioned again. He is a dreamer and idealist. Politically, Harold is a Labour supporter who is appalled at his father who is a Conservative Party supporter. He aims to improve his mind and his social circle but always fails, often thanks to Albert's deliberate put-downs or sabotage. Harold's exasperation and disgust at his father's behaviour often results in his repeating the catchphrase "You dirty old man."
Situation
The episodes often revolve around (sometimes violent) disagreements between the two men, Harold's attempts to bed women and momentary interest over things found on his round. As with many of the best examples of British comedy, much of the humour derives from the pathos of the protagonists' situation, especially Harold's continually-thwarted (usually by the elder Steptoe) attempts to "better himself" and the unresolvable love/hate relationship that exists between the pair.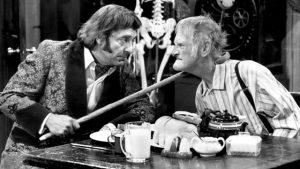 A common theme is that Albert almost always comes out on top. Despite his lack of effort Albert routinely and easily proves himself superior to his son whenever they come into competition, such as in their frequent game-playing, e.g., the Scrabble and badminton games from the 1972 series. Harold takes them desperately seriously and sees them as symbols of his desire to improve himself, but they come to nothing every time. His father's success is partly down to superior talent but aided by cynical gamesmanship and undermining of his son's confidence. In addition, Albert habitually has better judgement than his son, who blunders into all sorts of con-tricks and blind alleys as a result of his unrealistic, straw-clutching ideas. Occasionally the tables are turned, but overall the old man is the winner, albeit in a graceless fashion.
Harold is infuriated by these persistent frustrations and defeats, even going to the extent in "Divided We Stand" (1972) of partitioning the house in two so he doesn't have to share with his selfish, uncultured and negative father. Predictably, his plan ends in failure and ultimately he can see no way out. However, for all the bitterness there is an essential bond between the pair.
https://youtu.be/LOfSeAN0q8s
Radio Series
The Steptoe and Son radio series started on 3 July 1966, when the very first episode "The Offer" was broadcast. There were six series in all.
All of the radio episodes were reworking's of the original television programmes, therefore some of the more visual episodes were not considered for radio. While it is possible for a radio audience to use their imagination to create almost any circumstance, the amount of additional dialogue required to re-create an episode like "Divided We Stand", where the entire house is split in two, would either mean that the episode would overrun or most likely lose some of it's impact.
Albert & Harold Tribute Site
Radio Episode Guide
Between 1966 and 1976, 52 episodes of Steptoe and Son were adapted for radio, these were remakes of the TV episodes specifically tailored for a radio audience, (Note: they are not TV soundtrack recordings), Series 1 & 2 were broadcast on the BBC Light Programme in 1966 and 1967. Series 3-6 and a final Christmas Special were broadcast on BBC Radio 2 between 1971 and 1976.
Series 1 & 2 TV scripts adapted for Radio by Gale Pedrick.
Series 3-6 & Christmas Special TV scripts adapted for radio by Ray Galton and Alan Simpson.
All radio episodes produced by Bobby Jaye.
Series 1
1/ The Offer (3 July 1966)
2/ The Bird (10 July 1966)
3/ 65-Today (17 July 1966)
4/ The Stepmother (24 July 1966)
5/ The Economist (31 July 1966)
6/ Wallah-Wallah Catsmeat (7 August 1966)
7/ The Diploma (14 August 1966)
8/ Steptoe ala Carte (21 August 1966)
9/ The Holiday (28 August 1966)
10 The Bath (4 September 1966)
11 The Lead Man Cometh (11 September 1966)
12 The Musical Evening (18 September 1966)
13 The Bonds That Bind Us (25 September 1966)
Series 2
1/ The Siege of Steptoe Street (11 June 1967)
2/ Pilgrim's Progress (18 June 1967)
3/ The Wooden Overcoats (25 June 1967)
4/ Sunday for Seven Days (2 July 1967)
5/ The Piano (9 July 1967)
6/ My Old Man's a Tory (16 July 1967)
7/ Homes Fit for Heroes (23 July 1967)
8/ Crossed Swords (30 July 1967)
Series 3
1/ A Death in the Family (21 March 1971)
2/ Two's Company (28 March 1971)
3/ Tea for Two (4 April 1971)
4/ T.B. Or Not T.B. (11 April 1971)
5/ Without Prejudice (18 April 1971)
6/ Cuckoo in the Nest (25 April 1971)
7/ Steptoe and Son -and Son (2 May 1971)
8/ Robbery with Violence (9 May 1971)
Series 4
1/ Full House(30 January 1972)
2/ Is That Your Horse Outside? (6 February 1972)
3/ The Lodger (13 February 1972)
4/ A Box in Town (20 February 1972)
5/ The Three Feathers (27 February 1972)
6/ The Colour Problem (5 March 1972)
7/ And Afterwards At… (12 March 1972)
8/ Any Old Iron (19 March 1972)
Series 5
1/ The Desperate Hours (26 May 1974)
2/ Come Dancing (2 June 1974)
3/ A Star is Born (9 June 1974)
4/ A Winter's Tale (16 June 1974)
5/ Men of Property (23 June 1974)
6/ Men of Letters (30 June 1974)
Series 6 and Christmas special
1/ Loathe Story (8 February 1976)
2/ Oh What a Beautiful Mourning (15 February 1976)
3/ Live Now P.A.Y.E. Later (22 February 1976)
4/ Upstairs Downstairs, Upstairs Downstairs (29 February 1976)
5/ And So to Bed (7 March 1976)
6/ Porn Yesterday (14 March 1976)
7/ The Seven Steptoerai (21 March 1976)
8/ Seance in a Wet Rag and Boneyard (28 March 1976)
"Away for Christmas" (25 December 1976) (based on 1974 TV Xmas Special)