Welcome to British Comedy Radio, the home of Classic British Radio Comedy & much more.
British Comedy Radio, the very best of British Radio Comedy 24/7, 365 days a year…
British radio comedy has not only entertained audiences for some 70 years, it's also been a medium for change in British society itself.
Bandwaggon established a new formula of comedy sketches and music. At the beginning of the war it was a wonderful boost for morale.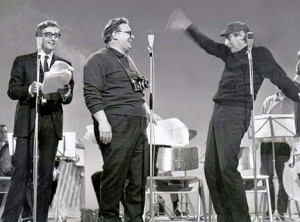 After the War there was the famous Goon Show, created by Spike Milligan. Incredibly funny surreal humour with characters drawn from all walks of life, which the younger generation adored, the Goons left older people confused, including the hierarchy at the BBC. They never realised how the anarchy, chaos and irreverence in the show were subtly affecting class attitudes. Also a whole generation was laughing at the same thing.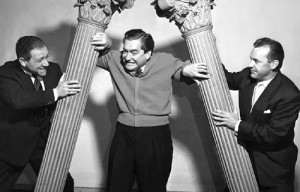 Just after the war the BBC produced The Little Green Book, a guide as to what comedy writers and producers could and couldn't say on air. I remember being told by one producer when recording a stand up show that I couldn't use the word naked as a punchline to a joke, it was a banned word in the Little Green Book's guidance and censorship.
The rules they introduced were often ignored or were even used by some writers as something to challenge and subvert.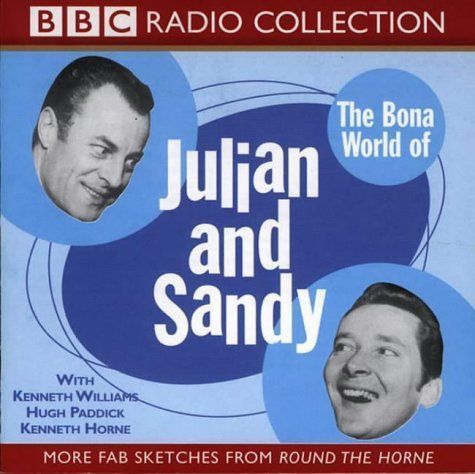 The writing team of Marty Feldman, Barry Took, and later Brian Cooke, on Round the Horne were an example. The program introduced characters that the BBC frowned upon. According to the rules in the Green Book you couldn't have reference to a man being effeminate, but then came Hugh Paddick's Julian and Kenneth Williams' Sandy to challenge the Green Book and break down the taboo of homosexuality.
When Round The Horne started if you winked at man in the street you would be arrested but what Julian and Sandy [Kenneth Williams, above] did was stop some of that.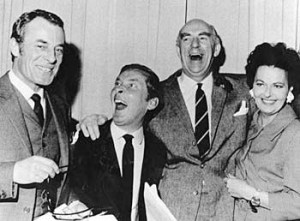 Many of you will have been witness to that huge impact that radio comedy has had since the 1950's and the BBC still maintains its high standards, which is valuable, but they have moved a long way from the establishment viewpoint they adopted in their pre-war days. These changes have come about principally through the power of humour to influence attitudes and patterns of behaviour and in it's that way that radio comedy has helped change a nation.
British Radio brings British Radio Comedy back to life for your listening pleasure
Enjoy 🙂
Useful links: Radio Comedy Show Guide